Le Jardin Spa & Beauty at Sofitel Moorea Ia Ora Beach Resort
A tropical garden of wellness and beauty
Welcome to Le Jardin Spa & Beauty
Tucked away in a picturesque pocket of tropical garden,
surrender to the uplifting beauty
and majestic relaxing atmosphere.
Choose between luxury treatments offered by our talented therapists, featuring pure essential oils and natural exotic ingredients
such as raw-organic coconut body oil, zesty orange, sweet vanilla, fruity mango or avocado.
Whether to improve your health and wellbeing or simply to relax, discover the genuine beauty and charm of "Le Jardin Spa & Beauty".
This oils combined with our prodigious treatments helps to let your skin radiant, preventing skin ageing and tonifying your body.
At Le Jardin you will dive into a deep state of relaxation provided by expert massage techniques.
Relax, tonify, destress and activate your body with our professional massage customised to your needs.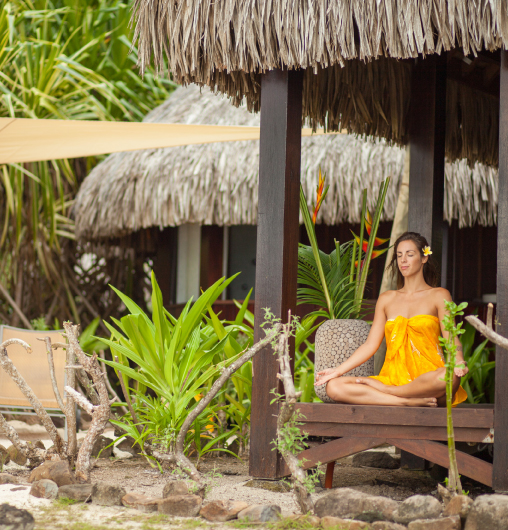 All of our treatments feature
100% NATURAL INGREDIENTS
~~~
In our treatments we use luxurious massage oils containing large amounts of naturally preserved ingredients made in French Polynesia by small local producers.
Absolutely perfect and wonderful in every way!
Thank you.
A client, May 2019
Vous êtes de loin le meilleur Spa! (pour en avoir fait plusieurs). Bravo !
A client, May 2019
Best Massage I ever had.
Loved the Polynesian wave technique.
Great deep pressure.
A client, May 2019
Fantastic!
Listened to clients comments regarding pressure wanted.
Thank You!
A client, July 2018
Just amazing! enjoying, relaxing, feel me vibe of energy!
A client, June 2018
Everything fantastic.
I can't be more relaxed after the treatment.
Great Service!
A client, June 2017
Our massages and treatments
Visit us for a treatment and the very real results will be immediately evident!
Signature wellness escapes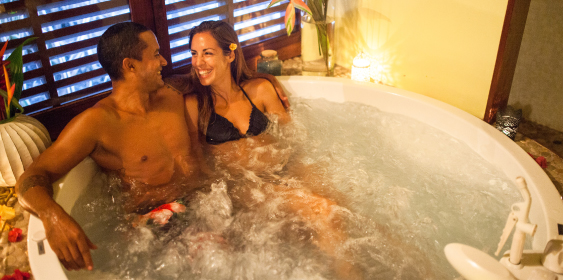 Toning & Detox intensive treatment
Whatever your shape and size
enjoy an activating treatment
that will work intensely on your lymphatic system
to drain and tone:
• Aromatic orange-vanilla salt bath
• Foot Reflexology for lymphatic system
• Invigorating Orange scrub
• 80 minutes Activating & Toning Massage
160 min | 45.000 cfp | € 377
Skin protection treatment
Indulge in a long treatment dedicated to your beauty.
Meanwhile your skin, complexion and hair will get a regenerating treatment,
you will dive into a deep state of relaxation
provided by expert massage techniques:
• Aromatic green tea salt bath
• Scalp massage & Hair mask
• Relaxing massage with unrefined coconut oil
• Rejuvenating facial treatment
140 min | 42.000 cfp | € 352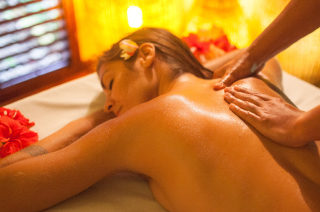 Relaxing massage
De-stress and let go with a professional
full body massage customised to your needs.
Combinations of palm pressures, strokes, rolls
and lymphatic drainage techniques
to restore body and mind.
50 min | 17.000 cfp | € 142
80 min | 23.000 cfp | € 193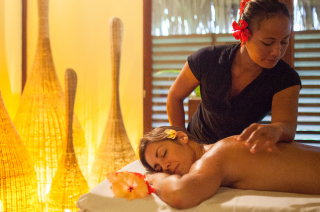 Polynesian Massage
Discover the beauty and the relaxation
of wavelike movements flowing from
your head to your toes without interruption.
This massage helps you to discover
the superlative integrity of your whole being.
50 min | 17.000 cfp | € 142
80 min | 23.000 cfp | € 193
Activating & Toning Massage
Awaken to the rhythm of a firming
and stimulating massage. The active
tempo will warm up your circulatory
and lymphatic system, while the final result
will be a rejuvenating freshness.
50 min | 17.000 cfp | € 142
80 min | 23.000 cfp | € 193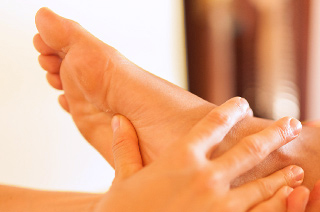 Foot reflexology
Indulge in the ancestral knowledge of
foot pressure point techniques.
Regenerating effects to the metabolism,
lightness of legs and clarity of mind.
50 min | 17.000 cfp | € 142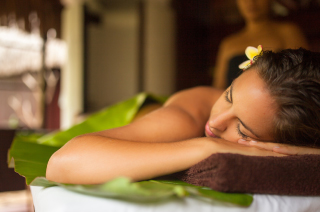 Hot stones
Enjoy the heat therapy
from smooth volcanic Polynesian black stones.
This luxury massage combines pure Monoï oil
and penetrating warmth to release tensions
from within muscular tissues.
80 min | 23.000 cfp | € 193
Combo
Combine an authentic Polynesian massage with what appeals you the most:
• Aromatic salt bath
• Body scrub
• Foot reflexology
• Head reflexology and hair mask
• Facial
80 min | 23.000 cfp | € 193
110 min | 30.000 cfp | € 251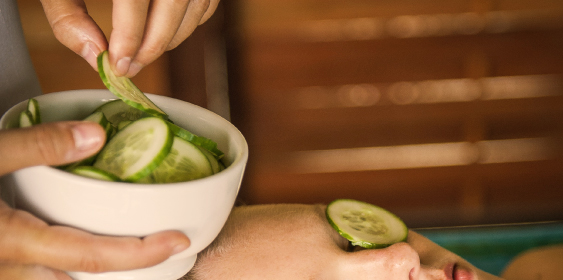 After sun cooling treatment
A delightful and refreshing escape
to recover from sunburn and dry hair.
Enjoy the restorative benefits
of a homemade cooling mask,
and plunge into the restoration
of pressure points body work.
80 min | 23.000 cfp | € 193
Aesthetic
Be impeccable and radiant for your unforgettable moments…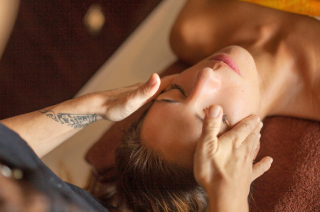 Anti-ageing facial
Replenish in a cooling and intense regeneration
of your facial complexion, after sun exposure
or consideration of anti-ageing benefits.
Enjoy the expert touch of our aesthetician
using rich and nourishing ingredients featuring
fruits enzymes and 100% natural products.
50 min | 16.000 cfp | € 134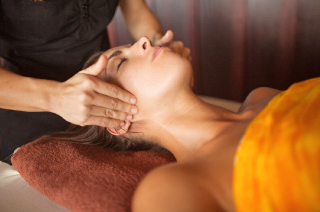 Light up refreshing facial
The easiest and effortless way
to feel refreshed, toned and at ease
withour light and hydrating
facial products.
Featuring fruits enzymes
and 100% natural products.
50 min | 16.000 cfp | € 134
Men facial
Cleanse from excess build-up
of sunscreen and balance your skin lipid level.
This facial treatment
uses nature's wisdom
through active natural exfoliating ingredients
and efficient white clay mask.
50 min | 16.000 cfp | € 134
Grooming
Hand Grooming
60 min | 10.000 xpf | € 84
Feet Grooming
70 min | 12.000 xpf |€ 101
Nail Grooming: Hands
40 min | 8.500 xpf | € 71
Nail Grooming: Feet
40 min | 8.500 xpf | € 71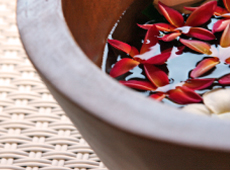 Waxing
Full legs
30 min | 4.500 xpf | € 38
Half legs
20 min | 3.000 xpf | € 25
Classic bikini
20 min | 3.000 xpf | € 25
Brazilian bikini
40 min | 5.500 xpf | € 46
Armpits
15 min | 2.500 xpf | € 21
Eyebrows
10 min | 1.500 xpf | € 13
Lips
5 min | 1.500 xpf | € 13
Useful booking information
Please read carefully before booking

Our therapists will welcome you from 9:15 am to 7:15 pm.
When to arrive
To take better advantage of your massage session you are encouraged to arrive 5 minutes before the beginning of your treatment. We recommend that you take a shower in advance in order to enjoy the benefits of the oil. Please keep in mind that arriving late may result in a reduction of the time required for your treatment.
Treatment Reservation
Write us if you want a consultation regarding your selected treatment. Treatments for couples are available in the same room (depending on availability). All treatments are subject to our schedule availability. Please fill the form below or call the reception in advance to book your treatment.
Book now: Le jardin Spa & Beauty: +689 40 565740 – Reception of Sofitel Moorea Ia Ora Beach resort: +689 40 551212
Treatment for couples
Reserve both your massages at the same time, and you can relax together while receiving your treatments in the quiet atmosphere at Le Jardin Spa & Beauty.
Health Conditions
Please inform us about your health condition: pregnancy, allergies, recent medical or cosmetics interventions or incidents that may affect our service.
Cancellation
You can cancel your reservation up to 24 hours in advance of the time set for your treatment. Please note that past this limit there will be a charge of 50%.
Book your relaxing treatment now!
Fill the form below