Carlos Del Pino
Co-founder ~ Watsu & Tantsu Instructor
From the age of 5, thanks to the studies of the art of Karate, Carlos grew up with a passion for the body disciplines. Enriched by his experiences and meditation techniques he graduated in 1999 as a Shiatsu Practitioner as recognized by the European Shiatsu Professional Association.
He extended his techniques to Water in 2004 where, with a passionate heart and an holistic vision, he entered into the world of Watsu.
Carlos is a WABA certified Watsu and Tantsu instructor as well as aShiatsu Teacher and Craniosacral practitioner. His intuitive method of sharing his passion is borne from his research about creative movement and supports new individual forms of expression.
As a trainer, Carlos manages to transform with great passion these techniques in a simplified body reality for his students.
He gathered many insights in Europe, Asia and Latin America, both as an observer and as a trainer, working in anthroposophical communities in Germany, immersing himself in the mystical cultures of Latin American countries and gaining inspiration from Eastern cultures.
He currently resides in Polynesia, islands still rich in culture followed strongly by its inhabitants.
The Maori culture is strongly present in his background and has permeated his career. The ancient sounds and dances of this land find space in his spontaneous and fluid teaching.
Carlos diffuses Watsu and Tantsu internationally and especially in Polynesia.
Manuela Paoletti
Co-founder ~ Somatic Yoga Teacher

Manuela is dedicated to living an artistic life in all ways.
The Beauty and Life so perfectly ever present in the human body is her greatest inspiration in both her moving and visual art.
Manuela is a painter and also a Somatic Yoga teacher.
A body therapist since 2003, Manuela practices and continues to deeply explore the modalities of Systemic Yoga, Craniosacral Biodynamic Therapy, Shiatsu and Tantsu.
These are natural healing techniques that provide her with inspiration and freedom of approach.
In her yoga sharing, she focuses on the forms of expression of each individual, and dedicates her work to help others deeply perceive that which resides under the surface of the skin, deep inside the tissues.
In her classes, much influence is taken from dance with space for creative movement.
Within all the instruments she uses, art or touch, she hopes to help others to rest and restore themselves and then rise to new forms of expression, vitality and creative movement.
Italian-born, Manuela now lives in Polynesia. Here, the magnificent energy of water, sun and wind joined by the deep mysticism of the Maohi culture, are permeating into her paints, practice and methods of sharing.
Gratefully blessed by polynesian welcoming open arms she still loves to travel and experience the vastness of the world's opportunities.
Katherine Tribut
Originally from Latin America, Katherine grew up in a multicultural environment. Passionate about travel, culture, discovery and human contact, she studies Hotel Management to obtain the freedom to combine all the passions with her professional life.
She decided to start the adventure in Europe, where she learned the basics of five stars hotel service, the "savoir-faire à la française " and allowed her to acquire the foundations of modern management in several internationally renowned hotel chains. After a decade of professional rebounds, mainly in France, a new opportunity presented in Polynesia. This trip of discovery was characterized by mobility in different Islands, by the discovery of the Polynesian culture and customs and of course the generosity of the people.
This enrichment is increased when this voyage leads to a quest for self through yoga, diving and sport.
It was only in early 2019 that her professional life twisted drastically, leaving her passion for Hospitality industry to work in holistic and well-being environment. A new chapter begins with ONE SOUL Spa. Her knowledge, her structure in the work and her sense of detail are a complement to this flourishing business and project.
Camille Jolie
Supervisor and Esthetician

Read about Camille
She was born in the north of the France but she spent her entire childhood in the South, Camille has a degree in cosmetic and she is trained in hydrotherapy.
In Tahiti since 2007 where she worked as Assistant Manager in the Hotel Radisson Plaza resort for 4 years, this experience permit her to learn and develop different tecniques and approaches with a polynesian touch.
Since 3 years she joined the One Soul Spa Team bringing her smile, competencies and positive energy to the clients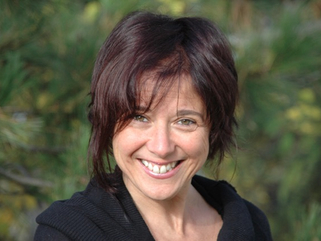 Keli Procopio
Specialized Bodyworker & International Trainer

Read about Keli
Sannyasin since 1988, holistic counsellor accredited by SICOOL, specialized in Breathwork and Watsu.
She is trained in Shiatsu, at the Center for Traditional Medicine in Milan, as well as in breathwork with the Milena Screm  Institute, where she leads various basic and advanced training courses, as a collaborator of the Insight Managing Board of the School of Breathwork and Counselling in Milan.
She meets Harold Dull in 1996  and sees the potential of bodywork in water; co-founder of the Italian School of Watsu, she has been teaching Watsu since 2000, as well as Tantsu recently.
In her work, she combines her love and passion for water and breathwork with a meditative and playful approach.
She has been co-founder of the Osho Circle School.
Pirily Kong Fou
Massage practitioner
Read about Pirily
Pirily is a local lady originating from Taha'a. She is typically Tahitian with a warm and genuine welcoming attitude and always ready with a smile.
She studied massage techniques and decided to become a massage therapist to share her passion for wellbeing. She has a good intuition about body works and has the Mana in her hands.
Pirily is working with One Soul Spa to improve her knowledge of the holistic vision of the human being and to provide authentic Polynesian treatments. Kind and team orientated, Pirily loves to spend time with her family and to simply enjoy the beauty of Polynesian nature.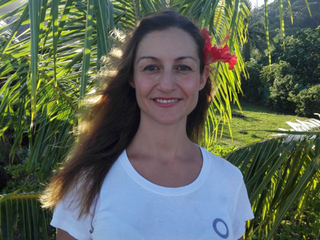 Rossella Dessi
Massage Practitioner and Yoga Teacher
Read about Rossella
Rossella comes from Sardinia, a small island in the south of Italy.
Her passion for massage started when she was young and she began to feel the healing energy on her hands.
She believes that the power of touch is the first step for the healing process for both body and mind.
She studied Holistic massage therapies and Energetic massage and became very passionate about the work with clients and especially about discovering new techniques.
She works at One Soul Spa to master the beauty and unicity of Polynesian massage and to learn how to deliver a great all-round experience to clients.
She is always smiling and loves to improve herself. In her free time, she enjoys taking care of herself through yoga and meditation.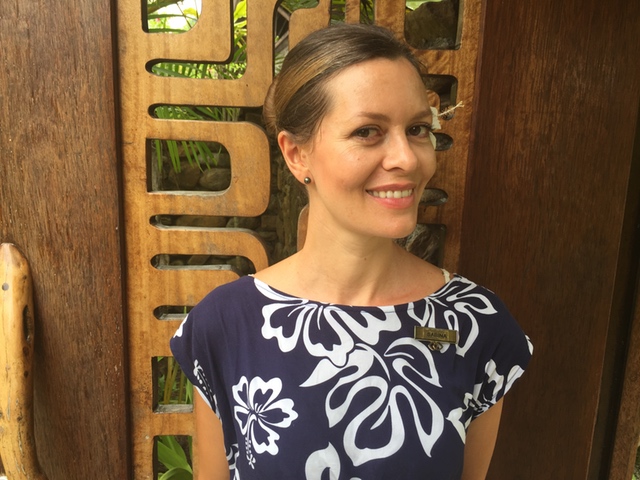 Read about Sabina
Committed in the Hotel Industry, more specifically in the performance of high quality customer service since nine years, in more than 5 different countries, this charming young woman has a rock solid experience in the Management field. Born in the Galapagos, Sabina, grew up in Quito, Ecuador's capital and it's at 18 that she decided to follow her passion. Her opened minded spirit motivated her to pursue studies in the world of Hotel Industry and Service in France. A Chilean father and an Ecuadorian mother, Sabina's multicultural background and world travels led her to speak fluently Spanish, French, English, Portuguese and lately with our customers, Italian.
Relentlessly hard-working with a sharp sense of perfectionism, Sabina brings to the SPA a unique and precious "know-how" making our everyday tasks in our oasis easy and fluid without any obstacles in the horizon. For us all, she has unquestionably shown her ability to unite and guide in a delicate yet affectionate manner, after all she is Latina…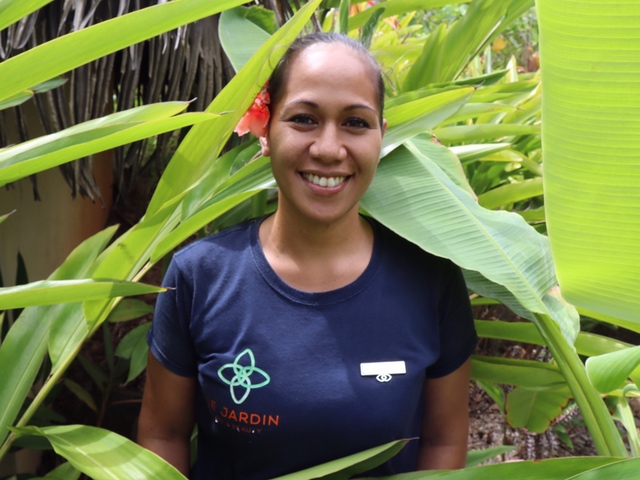 Midiana Reia
Massage Practitioner and Esthetician
Read about Midiana
Originally from the far away Marquises Islands, Midiana grew up in Moorea where she started her own family. Like in most traditional Polynesian families, children are taught at a young age to do massage, "tauromi" for their elders, which Midiana did rather young as she had "the Manaa " in her hands. With more than 10 years of experience as a massage therapist, One Soul Spa asked her to join the team for their opening in 2015. Since then, she had had the opportunity to train in multiple holistic treatments and perfected her beautician technics in which her "detail perfectionism" stands out.
Midiana has a strong teamwork spirit embedded in her dipped with a naturally refined sensitivity. She positively influences her surroundings and brings out in her massages a dimension of calm and serenity. What she affectionate the most is One Soul Spa's empathic and listening qualities that take her uniqueness into account. Her warm heartful generosity flows in all things that she does and shares it willingly with her co-workers, enriching them. She is undeniably a "pillar" bringing light and peace in our little "oasis".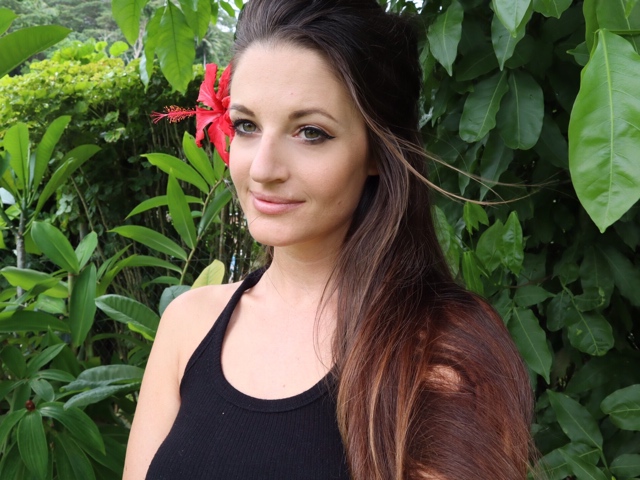 Malika Lilla
Esthetician, Make up & Hair style Artist
Read about Malika
With her Swiss accent, Malika has gracefully adapted herself to the Polynesian lifestyle. But it's at the other end of the world that Malika started her professional life, high up in the Swiss mountains, as a beautician in the institute that had trained her for 3 years. Her studies gave her a solid knowledge of different massage techniques and treatments. Following her passion, she trained in Geneva for a year as a professional Makeup Artist and Beauty Consultant, which brought her to create her own business as a Freelance Beautician and Makeup Artist. Not only did she work for Luxury Hotels Spas, but also the artistic sector like, the cinema, the fashion industry,(including shootings and catwalks), the opera, weddings and still found time to teach at the Beauty Institute of Studies.
If she's not dancing Salsa or Ori Tahiti, you'll find her trekking the mountain ridges or traveling the world, from South Africa to Australia where she "hopped" over to French Polynesia. She's been, since then, working as a Head practitioner for One Soul Spa for almost three years now and completes the team with her background knowledge, sense of beauty and perfectionism. Her calm, centered personality and precision in each thing that she does, encourages us to bring out the best every day to our little haven, "Le Jardin".
Hirinaki Berne
Massage Practitioner

Read about Hirinaki
In Marquisean language, "Hirinaki" means "Golden Skin", which defines rather well our "Junior of the Spa" with her bright smile and glowing skin touched by the Sun. She grew up in the Tuamotu Islands which shaped her personality into a care-free and a solar young lady. She radiates bubbly joy along with a dynamic energy which she transmits in her holistic treatments. Her gift was passed down from her maternal Grand-mother, versed in Polynesian Traditional healing Arts which, perhaps, subtly influenced her year's training as a therapist at RSMA Tahiti.
One Soul Spa took her in for her final year's training session and proposed to stay for her first work experience, the opportunity for Hirinaki to expand and deepen her therapy skills. The high standards of "Le Jardin" made her want to stay and be part of the team where she appreciates the open-minded spirit and continues to learn therapy techniques.
Trekking, surfing and traveling are part of her numerous passions but it's with her family that she resets her batteries and finds her harmony and source of joy. Her open-hearted laugh and authenticity has charmed us all and all those that meet this vibrant personality.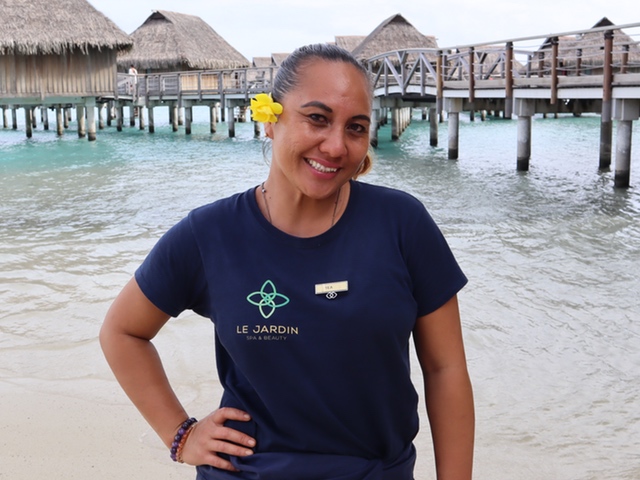 Tea Cadousteau
Massage Practitioner

Read about Tea
Cecilia Cadousteau is originally from Rangiroa, The Tuamotu islands, where she spent her childhood and her early twenties with her grand-parents. Raised in pristine nature and with a free spirit, Tea was brought up in the purest Polynesian tradition. Before being one of the first practitioners to be part of the team with One Soul Spa in 2015, she had worked on cruising ships around the Pacific ocean.
Traditional massage is natural for since she grew up with it so her first interest was in esthetic beautician treatments. Being part of the "Jardin" gave her the opportunity to "chisel" her talents in multiple ways, as well as training sessions with Carlos and Manuela in different holistic technics.
With her joyful nature, Tea reacts vividly to the energy she feels around her but it's in massage therapy that Tea's mana manifests itself and makes her clients experience a positive and special touch. Her holistic skills and "know-how" definitely make Tea an important asset to "Le Jardin" team. The art of generosity is sacred and a vital mantra in Tea's approach with all her clients.
Cindy Gillier
Yoga instructor

Read about Cindy
Cindy has always been passionate about movement. She started her research through dance and pushed it all the way through in becoming a professional and it's through training as a dancer that she encountered the practice of yoga.
After several years of training and self-taught yoga, she decided to take her practice at another level and pass a 200 hr YTT ( Yoga Teacher Training) at the Chamonix Yoga Alliance.
Now living in Moorea, she proposes Vinyasa Yoga courses with sessions that can be soft or more dynamic depending on the demand  with always a particular focus on yoga posture sequences emphasizing on breath for an optimal relaxation.
Cindy is also a certified, trained BASI Pilates Network Teacher.