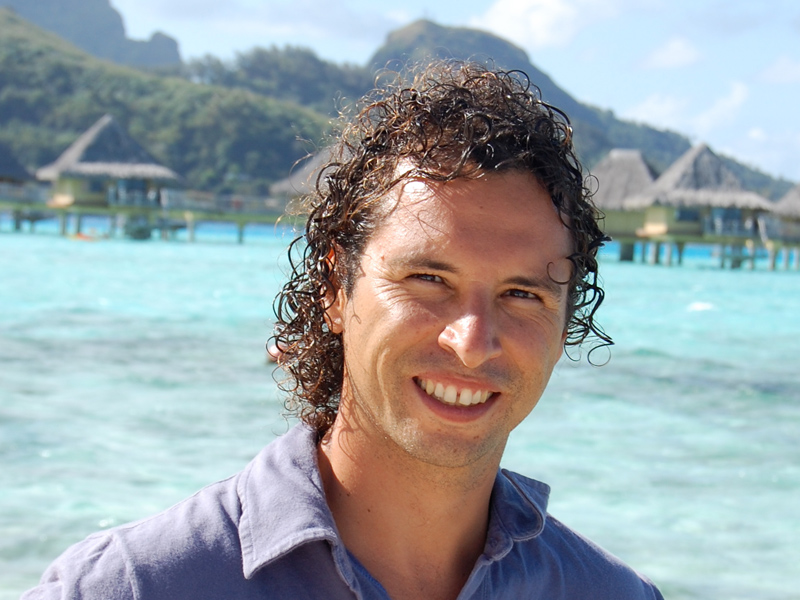 Carlos Del Pino
Co-founder ~ Watsu & Tantsu Instructor
From the age of 5, thanks to the studies of the art of Karate, Carlos grew up with a passion for the body disciplines. Enriched by his experiences and meditation techniques he graduated in 1999 as a Shiatsu Practitioner as recognized by the European Shiatsu Professional Association.
He extended his techniques to Water in 2004 where, with a passionate heart and an holistic vision, he entered into the world of Watsu.
Carlos is a WABA certified Watsu and Tantsu instructor as well as aShiatsu Teacher and Craniosacral practitioner. His intuitive method of sharing his passion is borne from his research about creative movement and supports new individual forms of expression.
As a trainer, Carlos manages to transform with great passion these techniques in a simplified body reality for his students.
He gathered many insights in Europe, Asia and Latin America, both as an observer and as a trainer, working in anthroposophical communities in Germany, immersing himself in the mystical cultures of Latin American countries and gaining inspiration from Eastern cultures.
He currently resides in Polynesia, islands still rich in culture followed strongly by its inhabitants.
The Maori culture is strongly present in his background and has permeated his career. The ancient sounds and dances of this land find space in his spontaneous and fluid teaching.
Carlos diffuses Watsu and Tantsu internationally and especially in Polynesia.
Manuela Paoletti
Co-founder ~ Somatic Yoga Teacher

Manuela is dedicated to living an artistic life in all ways.
The Beauty and Life so perfectly ever present in the human body is her greatest inspiration in both her moving and visual art.
Manuela is a painter and also a Somatic Yoga teacher.
A body therapist since 2003, Manuela practices and continues to deeply explore the modalities of Systemic Yoga, Craniosacral Biodynamic Therapy, Shiatsu and Tantsu.
These are natural healing techniques that provide her with inspiration and freedom of approach.
In her yoga sharing, she focuses on the forms of expression of each individual, and dedicates her work to help others deeply perceive that which resides under the surface of the skin, deep inside the tissues.
In her classes, much influence is taken from dance with space for creative movement.
Within all the instruments she uses, art or touch, she hopes to help others to rest and restore themselves and then rise to new forms of expression, vitality and creative movement.
Italian-born, Manuela now lives in Polynesia. Here, the magnificent energy of water, sun and wind joined by the deep mysticism of the Maohi culture, are permeating into her paints, practice and methods of sharing.
Gratefully blessed by polynesian welcoming open arms she still loves to travel and experience the vastness of the world's opportunities.
Virginie Pfaff
Massage & Thai Massage practitioner
Read about Virginie
Virginie started giving massages at the tender age of 8. Today she is a passionate and dedicated Energy and Bodywork professional practitioner with more than ten years of experience in partnership with luxury hotels and spas in Tahiti and Bora-Bora.
She arrived in French Polynesia on holiday in 2002… and never went home.
A Wu Thai Massage and Polynesian Taurumi specialist, she is also Reiki Master, practices Tai Chi and is adept at Five Tibetans exercises adept.
Fascinated by the fluidity of movement, she is currently working on designing a multidisciplinary advanced training course for spa therapists to improve posture, grounding, to minimize the risk of work-related injuries.
In her free time, she works at creating and sewing her own line of recycled OOAK handmade bags and sings in a band that plays in the restaurants and resorts of the island.
She is addicted to books and music. She loves animals – especially cats – dance, and whatever concerns a DIY lifestyle: she is really skillful in recycling, gardening and in any kind of acrobatic performance. In all truthfullness in her next life she dreams of working at Cirque du Soleil!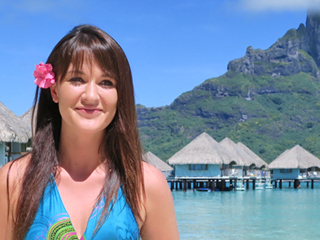 Maryse Guibert
Esthetician and massage practitioner

Read about Maryse
Maryse originates from Nantes and fell in love with everything Polynesian ever since her sister, following her honeymoon, returned from the islands. The culture and simplicity of the life here appeal to her sense of beauty and spirituality.
She has been practising massage since her childhood and is currently living her Polynesian dream and following her passion for bodywork within the One Soul Spa team in Bora-Bora. Prior to this she worked for 6 years in renowned spas in France.
Maryse loves to take care of others and this emanates in her subtle energetic touch and the spiritual dimension she adds to her treatments.
This vibrant young woman celebrates joy and life in everything she does and is on her way to mastering the Polynesian Arts of dancing and weaving in order to become an active participant in the local culture that she loves so much.
Keli Procopio
Specialized Bodyworker & International Trainer

Read about Keli
Sannyasin since 1988, holistic counsellor accredited by SICOOL, specialized in Breathwork and Watsu.
She is trained in Shiatsu, at the Center for Traditional Medicine in Milan, as well as in breathwork with the Milena Screm  Institute, where she leads various basic and advanced training courses, as a collaborator of the Insight Managing Board of the School of Breathwork and Counselling in Milan.
She meets Harold Dull in 1996  and sees the potential of bodywork in water; co-founder of the Italian School of Watsu, she has been teaching Watsu since 2000, as well as Tantsu recently.
In her work, she combines her love and passion for water and breathwork with a meditative and playful approach.
She is a resident and co-founder of the Osho Circle School.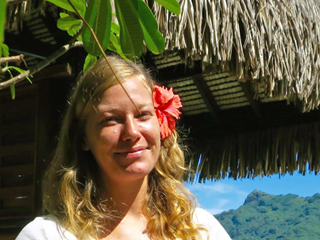 Melanie Pacquet
Massage practitioner
Read about Melanie
An outgoing and fun personality, Mélanie's topics of interest are numerous and varied. These include dance, boxing, biking and diving to mention just a few.
With a strong belief in holistic medicine, she chose to become a massage therapist and is flourishing in her chosen profession that she loves.
Trained at the International Tahiti School of Massage, she specialises in Polynesian massage, and thrives as part of the ONE SOUL Spa team for many reasons, including the constant internal training and workshops.
In between her various activities, Mélanie still finds time to work on the philosophic novel that she is currently writing.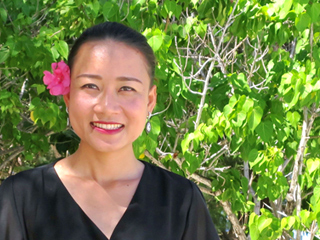 Ladda Delanchy
Massage practitioner
Read about Ladda
Ladda Delanchy is of Thai origin. She discovered Bora Bora in 2014 when she came to join her husband. She fell in love immediately with our beautiful island.
In Bora Bora, Lad can indulge in her favourite activities of sailing, fishing, cycling on the Motu and gardening.
Lad studied Thai traditional massage at the famous Wat Po school in Bangkok.
Passionate about her profession, she is delighted to be able to transmit part of the tradition of her country to Bora Bora vacationers.
Lad is also trained in Hawaiian and Polynesian massage techniques.
Pirily Kong Fou
Massage practitioner
Read about Pirily
Pirily is a local lady originating from Taha'a. She is typically Tahitian with a warm and genuine welcoming attitude and always ready with a smile.
She studied massage techniques and decided to become a massage therapist to share her passion for wellbeing. She has a good intuition about body works and has the Mana in her hands.
Pirily is working with One Soul Spa to improve her knowledge of the holistic vision of the human being and to provide authentic Polynesian treatments. Kind and team orientated, Pirily loves to spend time with her family and to simply enjoy the beauty of Polynesian nature.