nonsoloSeo
NonsoloSeo is part of our Core Team.
Highly skilled and always positive in finding avant-garde solutions, Loretta supports OneSoulSpa business with a custom design of web media, marketing and communication processes.
Thanks to nonsoloSeo consulting, OneSoulSpa is able to improve its own business management and building a growing organization that provides events, training and consulting business services.
More about nonsoloSeo
EcosDesign
EcosDesign is firmly part of OneSoulSpa Core Team, being our graphic and service designer.
Marta is really talented and brilliant at finding strategic solutions for compelling marketing, clear communications, innovative products & interior design.
Together with EcosDesign, OneSoulSpa embraces the commitment of supporting a green philosophy and finding ethical and ecological solutions for growing businesses in respect of the environment.
More about EcosDesign
Pablo Scirè Architectural Firm
A creative and open minded innovator, Pablo and his associates are a fundamental part of the OneSoulSpa Core Team, providing architectural support for the interior and exterior design of the locations.
Keeping in mind the vital importance of the guests' care approach and the flux of services, Pablo Scirè's Architectural Firm proposes intuitive design solutions for guests' satisfaction.
More about Pablo Scirè
Kerrin Barret
Senior Technical Advisor and Educational Consultant at Nadya Mundo LTD.
Director, Content Design and Development at Barrett & Associates International.
Check out Kerrin Barret's incredible curriculum and experience as Educator specialized in international development and growing organizations.
She is an important pillar of our team building trainings: in her job her ethics and sense of right or wrong merge with her multi-disciplinary skills.
All around the world she takes with her complete commitment in supporting the construction of learning projects in the developing countries.
More about Kerrin Barret
Keli Procopio
Keli is a counselor and bodywork trainer with more than 20 years of experience.
She is the co-founder of Watsu Italia and a great instructor of Breathwork.
Keli has taught to classes around the world, bringing her unique touch and expertly combining her extraordinary approach to meditation, rebirthing, shiatsu and waterwork.
Her presence is an opportunity to discover new levels of awareness in physical and spiritual fields.
More about Keli Procopio
Ateeka
Ateeka is an exceptional open-hearted human being, spiritually dedicated in experiencing the nature of consciousness.
She is a mentor and shares yoga paths that reflect and encourage the innate intelligence of the organic system by connecting traditional yoga studies, modern somatic approaches, meditative techniques and enquiries related to consciousness.
OneSoulSpa is grateful to Ateeka for her collaboration in Yoga, Meditation, Watsu, Tantsu and Tantra sharing, permeated by natural intelligence and playfulness, fluidity and compassion.
More about Ateeka
Harold Dull
Harold Dull is the the creator of Watsu®, Tantsu® and the Worldwide Aquatic Bodywork Registry which stores the transcripts of students around the world.
Harold trained with the creator of Zen Shiatsu in Japan, Shizuto Masunaga, and the teachers who brought Zen Shiatsu to America, Reuho Yamada and Wataru Ohashi.
The profundity and effectiveness of the bodywork forms he has created reflect his passionate practice and deep understanding of energy and the body. The creativity of these forms reflects his background as a poet in the San Francisco Renaissance.
His three Watsu books, a new Tantsu book and a collection of his poetry as well as several of his DVDs are available.
Harold speaks several languages,which helps him teach his work all over the world. He has received awards from Water Fitness and Aquatic Therapy associations.
Once he completed developing the forms needed in clinics and spas around the world, Harold turned his attention to developing complimentary paths that can make Watsu and Tantsu's potential for connection and the creative engagement of our life force universally available, a new humanism in which everybody can float or hold each other without intention.
More about Harold Dull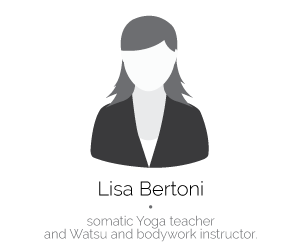 Lisa Bertoni
Lisa Bertoni has a degree in communication, a certification of Watsu Instructor and a Master in Yoga Studies from the prestigious University of Cà Foscari in Venice.
She lived in Australia for a while doing Aboriginal studies at Sydney University.
For many years she worked with babies and parents teaching them to love water and being safe in this natural environment. Her approach has always been gentle and caring.
She teaches Yoga with devotion and joy and brings to her classes her passion for essential oils, perfumes and sound, using Tibetan bowls and other instruments.
La Colonne Vitale
On the Island of Tahiti we are partners with Ben Eastwood and La Colonne Vitale.
Ben is from New Zealand and has lived for many years in Papeete.
He holds degrees in both chiropractic and psychology/physiology and is fully certified at the highest level of Network Spinal Analysis practice since 2006.
This is a great innovative technique able to facilitate the release of deep spinal cord traumas and Ben shares it with passion and incredible skill.
OneSoulSpa is really proud to collaborate with La Colonne Vitale. Together we organize special events and training weekends in French Polynesia.
More about La Colonne Vitale
Hakusha
Hakusha is an inspiring association for body discipline that collaborates with OneSoulSpa.
Rooted in Italy, Hakusha shares the highly valuable education of Shiatsu, Biodynamic Cranio sacral, Yoga, Zen Meditation and much more.
Hakusha Brescia adheres to a truly sincere care approach to the human being. The association devotes itself to making available for everybody a wide range of possibilities to walk through a path of personal growth.
More about Hakusha Brescia
Sadry Ghacir
Sadry is the founder and the concept creator of Frames Factory Pacific.
About his job he says: "It all started when I first arrived in French Polynesia, and felt in love with the islands and its people. Since then I try to express through my lenses the beauty of the scenery, filming and taking photos of hotels for various international promotions, services such as spas or excursions on the lagoon, weddings, special events, and various tv shows, broadcasted internationally."
More about Sadry Ghacir