Find below our wellness services in Bora Bora and Moorea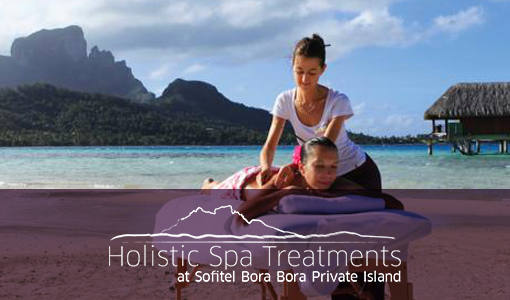 Our peaceful spa is nestled in the wild and natural beauty
of the Sofitel Bora Bora Private Island.
Peace, quiet and the sounds of the nature enhance the experience
and effectiveness of the treatments.
We offer personalized services and consultations for wellness retreats.


Tucked away in a picturesque pocket of tropical garden, surrender to the uplifting beauty and majestic relaxing atmosphere.
Choose between luxury treatments offered by our talented therapists, featuring pure essential oils and natural exotic ingredients.
Discover the genuine beauty and charm of Le Jardin Spa & Beauty.


This lovely spa is located at the renowned Le Meridien Bora Bora Resort.
In this relaxing and charming atmosphere, we promote an encounter with local culture combined with the experience of professionals at your service.
Enquire about personalized services & wellness retreats!