Le Petit Spa Matira at Coqui Coqui Perfumeria
One Soul Spa's holistic research for inner harmony marries the sophistication and the heady scents of Coqui Coqui

Welcome to Le Petit Spa Matira
Since the ancient times of Polynesian ancestors,
massage has been a traditional art
of enhancing wellbeing and healing…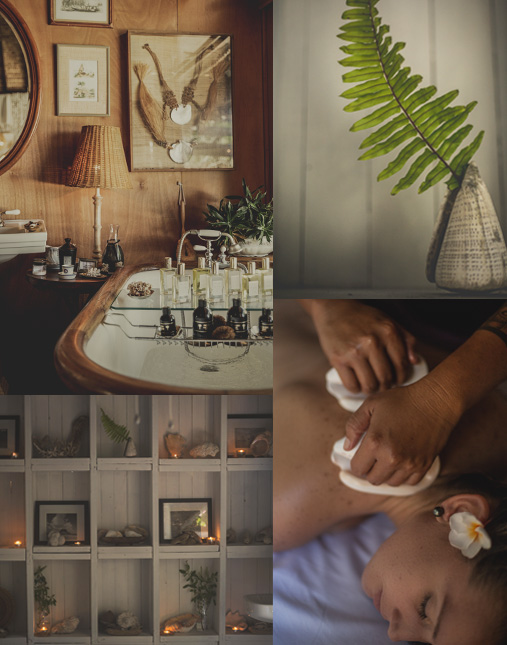 ~~~
The elegance and the sensory sophistication of Coqui Coqui products meets our service experience and holistic approach to accompany you into a space of refined intimacy and deep relaxation.
Coqui Coqui Boutique and Le Petit Spa Matira are the location for a sensory experience. This is a relaxed and familiar ambiance where you can feel at home. Discover Polynesian art and culture through refined craftsmanship, perfumes and oils for body care. Our Spa dedicated area, simply elegant, is provided with a massage room and a little zen garden with open-air bathtub. Choose between a range of relaxing and rejuvenating treatments.
Wellbeing experiences are enhanced by using healing touches and natural methods, featuring qualified practitioners that have the "Mana" in their hands, just like it is used in South Pacific's traditions of contact and sharing.
Coqui Coqui scents are used along with natural ingredients in all our oils, lotions and herbal blends prepared for every treatments. The new Polynesia Collection of eight different bouquets is presented in the Menu for our guests to choose from, to personalize each treatment and make it part of a 360° experience.
Je recommanderai à mon entourage "Ou il fait bon vivre". Très agréable.
A client, June 2019
Johana est très professionnelle. Je la recommande fortement.
A client, June 2018
Très apaisant, génial. Merci beaucoup!
A client, August 2018
Signature Relaxing Massage
A profoundly calming massage with aromatherapy to soothe body and mind and experience a delightful relaxation. The massage will be performed with designed techniques to tonify circulation and lymphatic system. Chose your own fragrance to design your best experience.
50 min  |  14.000 cfp  |  €  117

Signature Relaxing Massage with Face Reflexology
More than a relaxing massage, this treatment combines essential oils aromatherapy to awaken the senses, face reflexology, and a profoundly calming massage with designed techniques to improve your wellbeing.
80 min  |  19.500 cfp  |  €  164
Polynesian shell massage
Hands on technique and shell massage alternate to roll muscles for deep tissue work.
Seashells have been thought for centuries to have an uplifting natural energy. Seashells have therapeutic properties, they are smooth, contoured, and provide a luxurious sensation.
50 min  |  15.000 cfp  |  €  126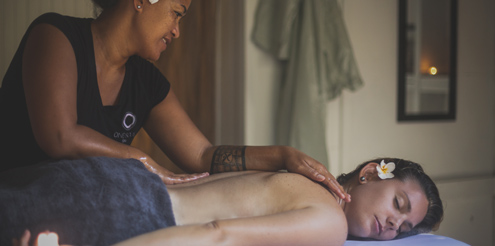 Polynesian massage
From the South Pacific traditions of contact and sharing. Choose this massage to experience wavelike movements flowing from your head to your toes without interruption. Fluidity and embracement transform into an unforgettable experience.
50 min  |  14.000 cfp  |  €  117
80 min  |  19.500 cfp  |  €  164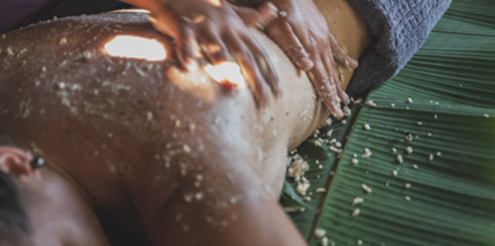 Combo exfoliation and massage
Intense skin nourishment and softness with our coconut body exfoliation, followed by a 50 or 80 minutes massage of your choice. A luxurious treatment, nurturing natural elements… an exotic experience through delicious fragrance.
80 min  |  19.500 cfp  |  €  164
110 min  |  24.000 cfp  |  €  201

Combo Massage and Bath
Enjoy your chosen massage and afterwards, to intensify its efficacy, step into our warm bathtub to integrate your relaxed state of being and melt down into regenerative water therapy.
Chose between our two selected bath ingredients:
Sweet and salty coconut and flowers bath and your selected COQUI COQUI bath oil, to nourish your skin and relax your muscles, as well as to clean from fatigue.
or
Polynesian Medicinal Plants Bath and your selected COQUI COQUI bath oil: a deeply relaxing medicinal plants infusion, from the Polynesian tradition to heal the skin and calm the body as well as the mind.
70 min  |  19.000 cfp  |  €  160
100 min  |  22.000 cfp  |  €  185

Earth Ritual
Our signature treatment dedicated to enhance a grounding experience and awaken the integrity within your own self. You will discover our Bath fragrances and the Polynesian art of massage.
Sweet and salty coconut and flowers bath with your selected Bath oil, Polynesian massage 50 minutes, Foot reflexology 30 minutes.
100 min  |  22.000 cfp  |  € 185

Water Ritual
Our Signature suggested Ritual for the most durable relaxation.
Enjoy a journey of senses through perfumes and products textures.
Coconut Body exfoliation, Sweet and salty coconut and flowers bath with your selected Bath oil, a complete Signature relaxing 80 minutes massage including face reflexology.
130 min  |  28.000 cfp  |  €  235

Anti-ageing facial
Replenish in a cooling and intense regeneration
of your facial complexion, after sun exposure
or consideration of anti-ageing benefits.
Enjoy the expert touch of our aesthetician
using rich and nourishing ingredients featuring
fruits enzymes and 100% natural products.
50 min  |  12.000 cfp  |  € 101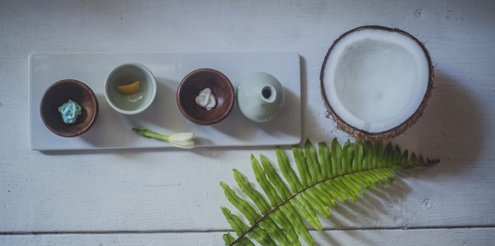 Nail Grooming
Keep your nails perfect:
choose our manicure /
pedicure services.
Hands | 9.000 cfp | € 75
Feet | 9.000 cfp | € 75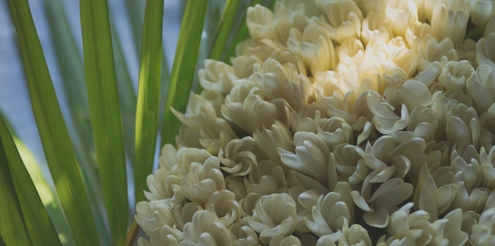 Waxing
Full legs | 4.500 cfp | € 38
Half legs | 3.000 cfp | € 25
Classic bikini | 3.000 cfp | € 25
Brazilian bikini | 5.300 cfp | € 44
Armpits | 2.200 cfp | € 18
Eyebrows | 1.500 cfp | € 13
Lips | 1.500 cfp | € 13
Shape & Relax Package
Expand your horizon…
Relax with one of our 80 minutes massages, then shape up to discover our beautiful lagoon with a certified Stand Up Paddle instructor, for a private SUP session in the turquoise waters of Matira Beach.
A true Bora Bora experience…
2 times 80 min  |  31.500 cfp  |  €  264

Useful booking information
Please read carefully before booking

Our therapists will welcome you from 10 am to 6 pm.
Treatments for couples
Reserve both your massages at the same time, and you can relax together while receiving your treatments in the quiet atmosphere of our private bungalow.
When to arrive
To make the most of your massage session, you are encouraged to arrive 5 minutes before the beginning of your treatment.
We recommend that you take a shower in advance in order to enjoy the benefits of the oil.
Please keep in mind that arriving late may result in a reduction of the time required for your treatment.
Treatment Reservation
To book a treatment, please speak with one of our receptionists at Coqui Coqui Perfumeria who will guide you in choosing the most appropriate treatment.
For reservations fill the form below or call Coqui Coqui Perfumeria: +689 40677092.
Health Conditions
Please inform us about your health condition, allergies, recent medical or cosmetics interventions or incidents that may affect our service.
Cancellation
You can cancel your reservation up to 24 hours in advance of the time set for your treatment.
Please note that past this limit there will be a charge of 50%.
Book your relaxing treatment now!
Fill the form below